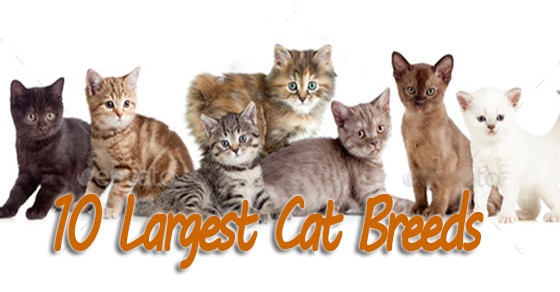 One of the reasons people give for preferring cats over dogs is their size. For people who live in cramped apartments, having a dog is just not practical. Cats are more suited for apartment life because they are relatively small and even though some like to sleep on your lap, the weight does not really bother you and may in fact be very relaxing for both cat and person.
However, for every generalization there are always exceptions. Not all cats are lightweight. The following list will show you the ten largest cat breeds. If you like your cats small and dainty, the following breeds go the other end of the spectrum. These are the heavyweights.
Maine Coon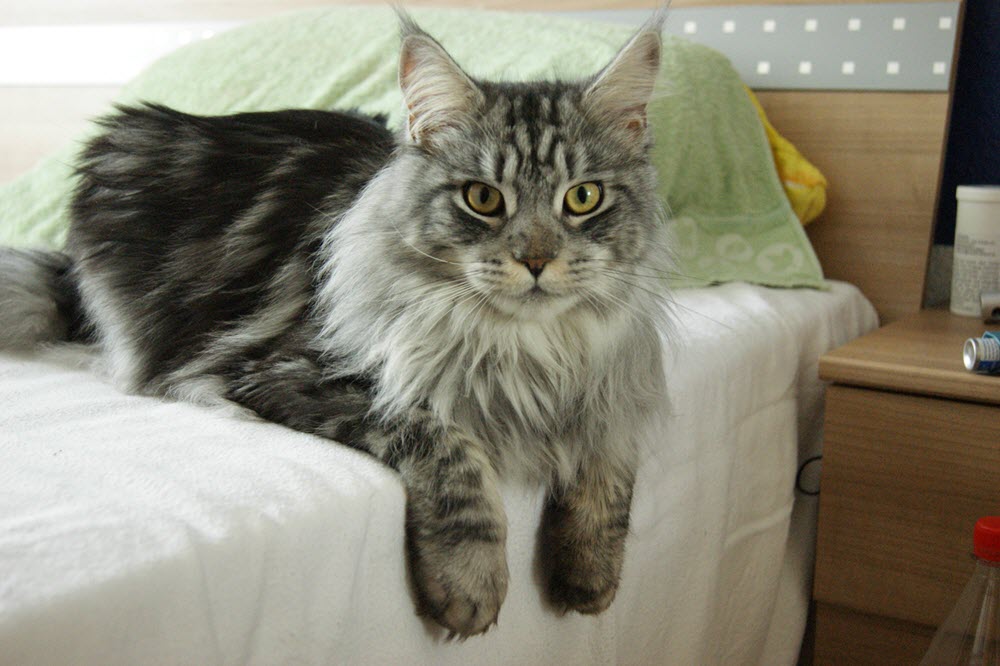 The Maine Coon is one hefty feline. Tipping the scales at 15 to 25 pounds, the Maine coon is a giant among domestic cat breeds. Its origin is the state of Maine in the US and is in fact the official state cat. Aptly nicknamed the gentle giant, this breed is known for its playful and sociable personality and intelligence. Its silky fluffy coat, long and bushy tail, and cute face are just some of the reasons we love the Maine Coon!
British Shorthair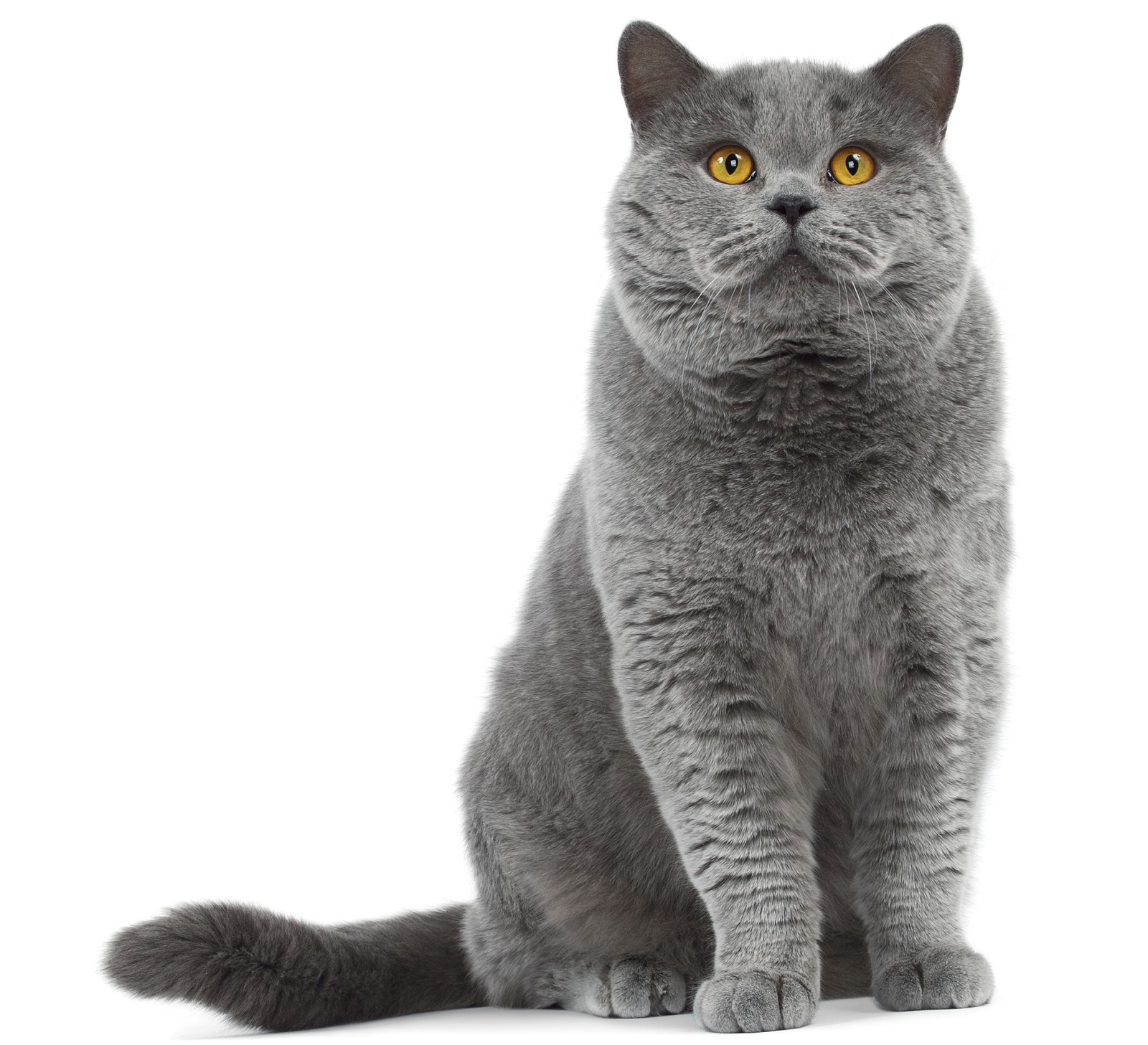 This beautiful cat is one of the largest shorthair breeds weighing in at around 15 to 22 pounds. The most common color is the British Blue but there are other colors like seal point, white and fawn, and even calico. Its distinctive feature is the plush fur, sort of a thick carpet that you just want to keep touching again and again! Personality-wise, these cats are very easygoing and not as active as other breeds so obesity is a problem if diet is not controlled. They do well with other pets and also children but don't like roughhousing and typically will not enjoy being picked up. Grooming is also a breeze because of the short hair. All in all, the British shorthair is a very good breed for a family who enjoys quiet evenings just hanging out in the living room with a heavy cat on their laps.
Ragdoll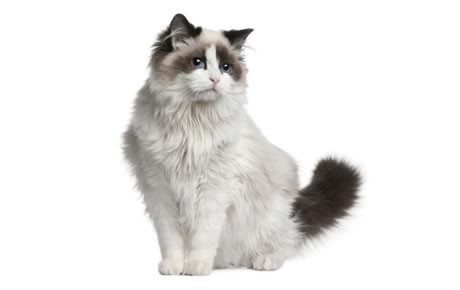 Weighing in at 15 to 20 pounds, this is one ragdoll kids would have a hard time carrying around in their arms! The breed was named so not because it is very light but because it goes limp and relaxed when picked up. The Ragdoll is a semi-longhair cat with beautiful blue eyes and a characteristic colorpoint coat. It is very docile and gentle and is known as a dog-like cat because of its tendency to follow people around, tolerance to physical handling, and relative lack of aggression toward other animals.
Ragamuffin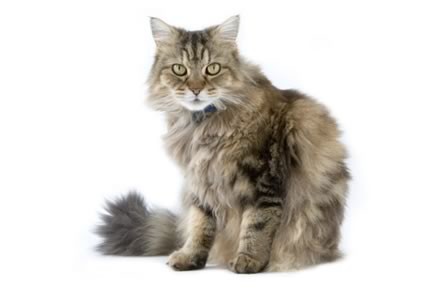 What an interesting name for a cat breed! The ragamuffin is actually a variant of the ragdoll and in fact shares almost the same temperament as the latter. It was not recognized as a separate breed from the ragdoll by the Cat Fanciers' Association until 2003. It is strongly built feline that takes three to five years to reach full maturity. It can weigh 10 to 15 in females and 15 to 20 in males.
Norwegian Forest Cat
This sturdy feline tips the scales at 15 to 20 pounds. It has a very interesting name and an equally interesting history to go with it. Some believe its ancestors were brought by the Vikings to serve as mousers on their ships. They then bred with local cats in Norway, producing the modern-day Norwegian forest cat we know today. Norse legends also speak of the skogkatt, a fairy cat that dwells in the mountain cat that has the ability to climb sheer rock faces. What other cat can claim such a colorful backstory! Like its ancestor, this breed is very adept at climbing because of its strong claws. It is adapted to the harsh winter because of its glossy, long, waterproof top coat and dense under coat for insulation. It has long legs and bushy tail. This cat loves the outdoors with a lot of energy to cope with the challenges that go with it. It can be very demanding of attention but is generally friendly and good with people.
Siberian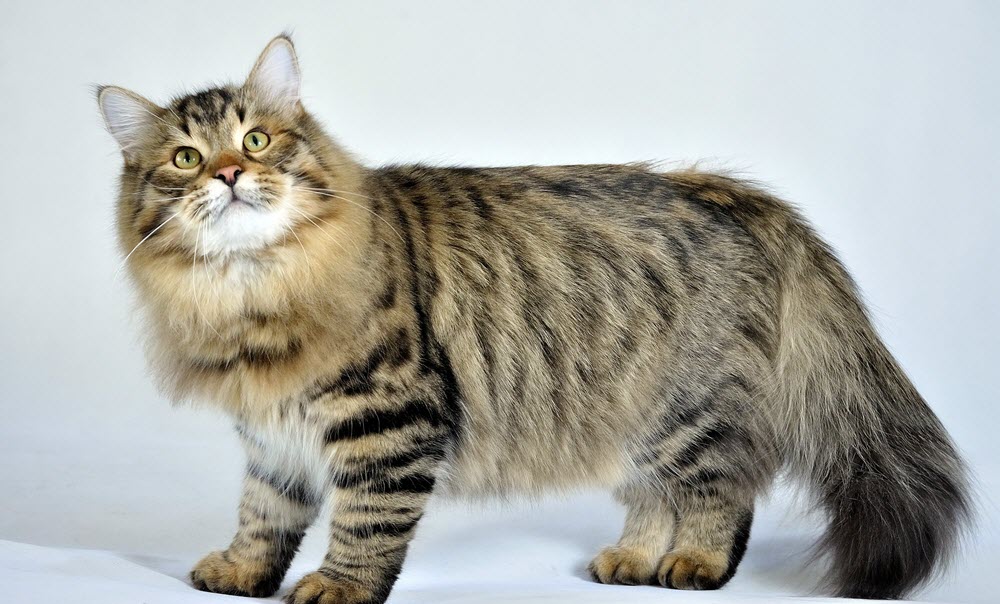 The Siberian is closely related to the Norwegian forest cat. Male cats may weigh at 10 to 20 pounds. This is a very athletic cat and has the build to prove it. Its strong hindquarters, large paws, and barreled chest prove this cat definitely lives up to its origin. What makes this cat extra-special though is the fact that its fur is said to be hypoallergenic. Allergic people who love cats can now have an opportunity to adopt a cat without the added "perks" of nonstop sneezing and watering eyes.
American Shorthair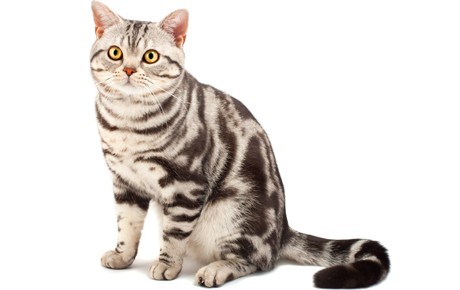 The American Shorthair weighs in at 12 to 15 pounds for males and 8 to 12 for females. It is powerfully built but is not very athletic, preferring to watch birds and other animals instead of catching them. It is quite content to sit on the window and observe or just sit on your lap.
American Bobtail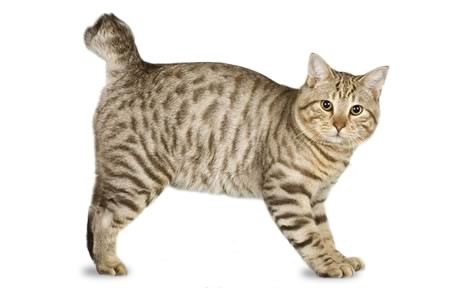 The American Bobtail tips the scales at 12 to 16 pounds. It may not be as big as the former breeds on this list but is nevertheless not to be ignored. It still carries some heft from the full and broad chest, stocky build, to its large tufty paws. Its most interesting feature of course is the short tail. The cats in this breed have different tail lengths but averages at 4 inches. Personality-wise, American Bobtails  are very playful and social creatures and have a talent for escaping rooms and cages. I guess it likes the wild outdoors more.
Chausie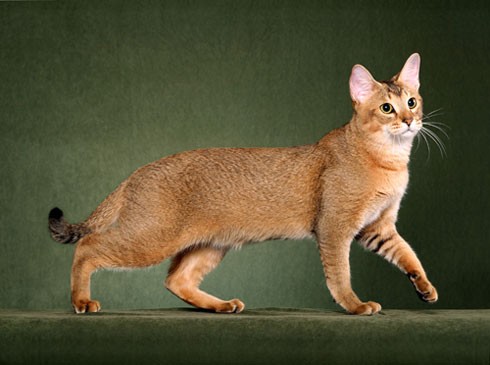 The Chausie weighs 10- to 2 pounds. The breed was developed by crossing a domestic cat with a jungle cat. The result is the Chausie we know today. They are the otters of the cat world for their playful, friendly nature. They don't like being alone and do best if they have other cats or even dogs around.
Savannah Cat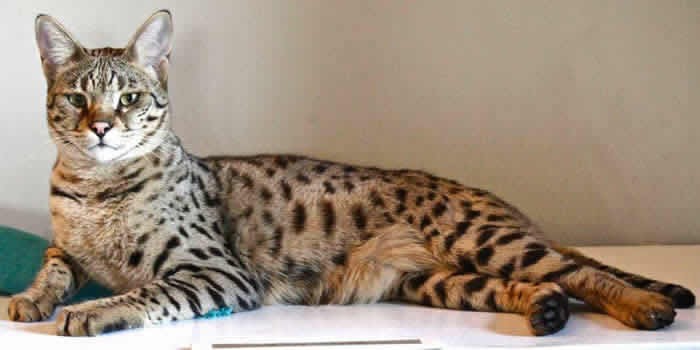 This last breed is a veritable giant with a weight of 20 pounds. Also a crossbreed, it was developed by crossing a domestic cat with a serval, which is an African wild cat. Both the Chausie and Savannah cat are not recognized by CFA but are recognized by International Cat Association. Unlike the other breeds in this list, this breed is not stocky but is long and leggy and has a slender body. Its most attractive features are its spotted pattern and ocelli on the back of its ears.
Joy comes in many shapes and sizes. These cats are huge and heavy but so is the joy cat owners get from caring for these majestic creatures. If you are looking for a bundle of joy, try adopting a cat. Fur balls aside, cats can be very good companions. The size doesn't matter, it's the love you have for your pets that does.